Democracy, Human Rights and the Environment are under threat in the Bolsonaro's Administration, says U.S. report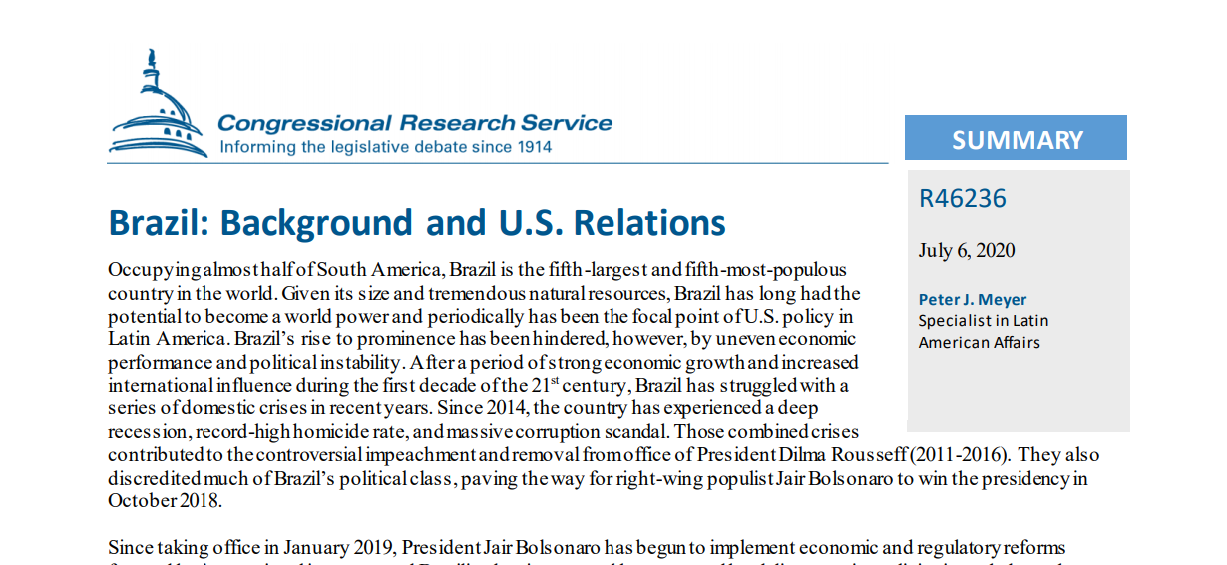 July 11, 2020
Photo: reproduction
A briefing for the US Congress has warned about the threats to democracy, rule of law, human rights and the environment that loom over Brazil under the Bolsonaro's Administration.
The document called "Brazil: Background and U.S. Relations" was published this week by the Congressional Research Service (CRS), a nonpartisan institution in charge of informing Congress members on themes debated at the U.S. House of Representatives and the Senate.
"Since taking office, the president has continued to celebrate Brazil's military dictatorship, and his sons—who play an influential role in his government—have questioned democracy and suggested authoritarian measures may be necessary in certain circumstances. Bolsonaro also has attended rallies in which some of his supporters have called on the military to close congress and the supreme court", the report states.
Besides pointing out to the erosion of the Brazilian democracy, the document also stresses the failure in tackling the Covid-19 pandemic, the growing influence of the military in governance and the measures taken by Bolsonaro in order to weaken the press and roll back rights previously granted to minorities. According to the report, "the president's statements and actions have fueled attacks against journalists, activists, and indigenous and quilombola communities", groups perceived as enemies by Jair Bolsonaro.
The text relates the growing deforestation and burning of the Amazon Forest to the disastrous public policies adopted by Bolsonaro towards the environment. The issue is a major concern to the current Congress members, who have already assigned U$ 15 million to assistance programs in the Brazilian Amazon.
Lula
The document, signed by the specialist in Latin American Affairs Peter J. Meyer, also portrays the recent Brazilian history, including the period in which the Workers' Party occupied the presidency of the Republic and the following imprisonment of former president Lula.
"The Workers' Party (Partido dos Trabalhadores, or PT) administration of President Luiz Inácio Lula da Silva (Lula, 2003-2010) used the export revenues to improve social inclusion and reduce inequality. Among other measures, the PT-led government expanded social welfare programs and raised the minimum wage by 64% above inflation. Between 2003 and 2010, the Brazilian economy expanded by an average of 4.1% per year and the poverty rate fell to 13.6%, down from 28.2%", reports Meyer.
Meyer mentioned Dilma Rousseff's impeachment in 2016 and underlined Lula's imprisonment in April 2018, which "barred [him] from running for a third presidential term in 2018". In the passage called "Lula's Imprisonment and Release", the author refers to the press reports on the political bias and improper coordination between the prosecutors and the then judge Sergio Moro, respectively in charge of accusation and judgement of the proceedings against Lula. The fact that Sergio Moro served as Jair Bolsonaro's minister of Justice and Public Security has also been emphasized in the document.
Revision: Mauricio Pupo