Luiz Inácio Lula da Silva delivers historical speech on Brazil's Independence Day; Check out the best bits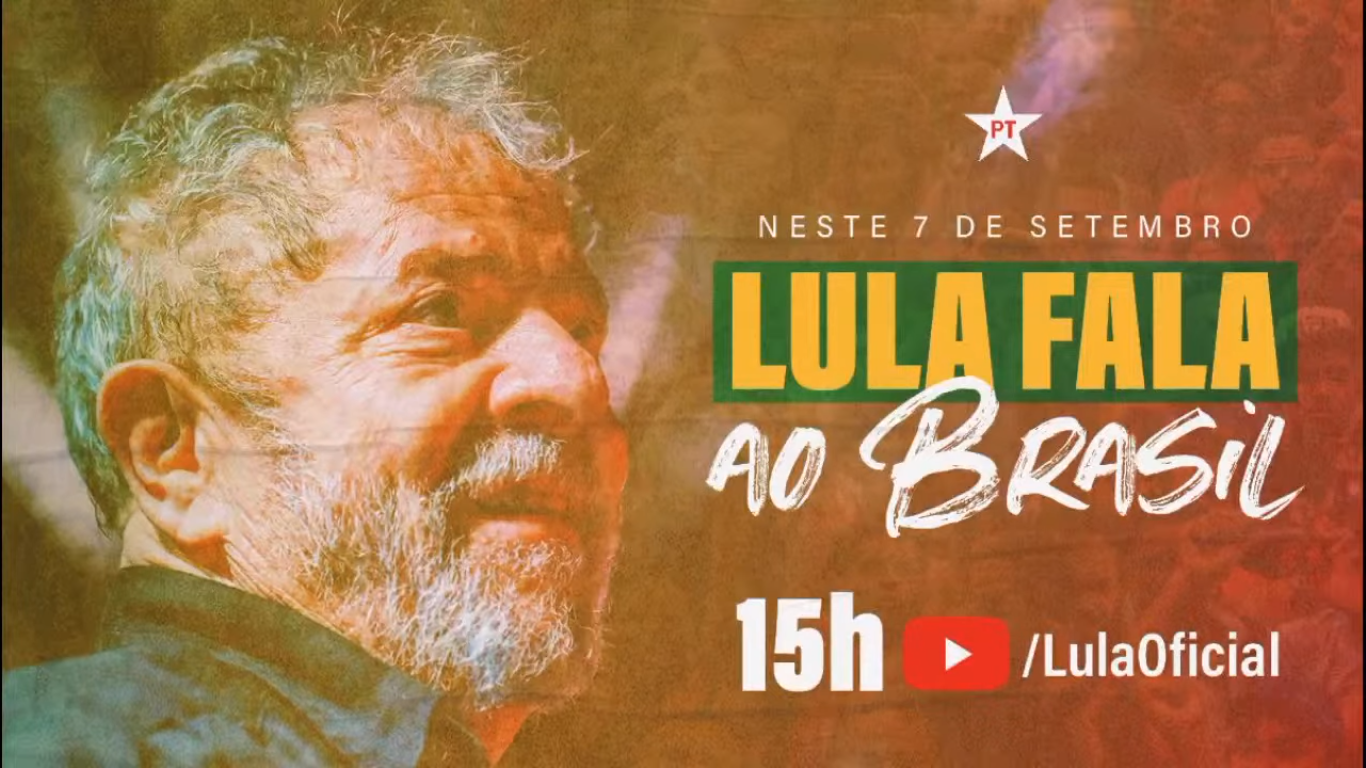 September 11, 2020
Photo: reproduction / Youtube
Former president Luiz Inácio Lula da Silva gave Brazilians a message of hope during a speech published in his social media. The historical statement happened on Brazil's Independence Day, celebrated on September 7.
During the speech, which has been spread throughout the international press, Lula da Silva evaluated the multiple crises Brazil goes through today, the impacts of Jair Bolsonaro's administration actions, and the possible ways to rebuild the country.
The former president is an internationally acknowledged statesman and has already been awarded the World Statesman Award for the year of 2006 by The Appeal of Conscience Foundation and the "Global Statesmanship Award" by the World Economic Forum in 2010.
Check out the best bits:
Covid-19 pandemics
During the speech, former president Lula da Silva evaluated Bolsonaro's administration's actions in the face of the pandemic, which led Brazil to have the third global worst answer to the crisis.
Sovereignty and defense of the Amazon
In the face of a government that adopts US strategic interests subservient foreign policy, Lula reminds us that defending the country's sovereignty is essential to assure its population well-being.
According to the former president, defending the country's sovereignty includes the protection and preservation of national treasures such as Pantanal and the Amazon forest, currently being burned down with the federal government's encouragement.
Brazilian diplomatic tradition
Nowadays regarded as an international pariah, Brazil was an important global player during Lula da Silva's administration. This happened because its foreign policy used to respect the Brazilian diplomatic tradition of peace, dialogue, and cooperation.
The struggle against racism is international
Not only in Brazil racism creates many kinds of violence, imprisons, and kills. The former president pointed out that it is an international issue during his speech.
Democracy and human rights
There is growing authoritarianism in Brazil, intensified by an openly fascist administration's rise to power. Lula talked about the importance of retrieving the Rule of Law in the country.
The struggle against inequality
Last but not least, the former president talked about the public policies against hunger and inequality adopted during his administration. Some of them, such as Bolsa Família, were acknowledged as models and exported to various countries throughout the world.
On the other hand, inequality has risen during Bolsonaro's administration, and workers have been having their rights, achieved over many years of struggle, withdrawn with the approval of the country's elites.
Check out the full speech here.