Lula, Haddad and Manuela: PT and PC do B confirm left ticket to win 5th consecutive election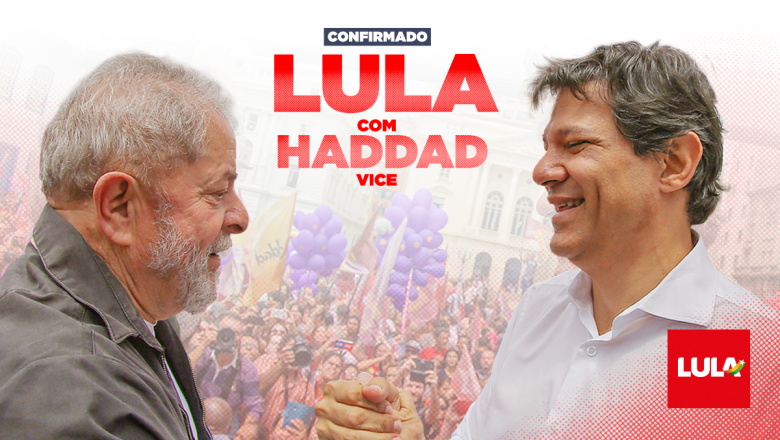 In a meeting that finished shortly before midnight on Sunday, August 5th, the presidents of PT, Senator Gleisi Hoffmann (Paraná) and the PC do B, Congresswoman Luciana Santos (Pernambuco), announced Manuela D'Àvila as the Vice Presidential candidate on the ticket that will have Lula as candidate for the presidency of the republic.
At this initial moment, however, due to Lula's legal situation, the coordinator of Lula's Government Plan, Fernando Haddad, will be registered as Vice-Presidential candidate. The ticket will have the PROS and PCO parties in the coalition and will have the support of the majority of the PSB, including the governors from the Northeast and Minas Gerais and the majority of the party.
"It is important that, starting from this Monday, Haddad and Manuela are together traveling across Brazil with a strong schedule of appearances," said Gleisi during the press conference.
The historical alliance between the two parties was emphasized in all of the speeches made during the press conference. Gleisi Hoffmann highlighted the "fundamental role" of the pre-candidate Manuela D'Àvila for the strengthening of unity of the popular and progressive left in the current conjuncture. "Manuela represents the power of women and youth and represents strength and determination," said the Senator.
In his statement, Haddad thanked everyone for the support and highlighted the importance of center-left union with the alliance made between PT, PC do B, PROS and PCO around Lula. "I am very happy with the unity around this extraordinary person, the greatest leader of the left, President Lula. We are moving forwards for the 5th time together with the PC do B and I am certain that we will win our 5th straight championship. Even with all of the persecution of Lula, his support continues to increase in the polls and it will be a pleasure traveling around the country with Manuela. Now we will work to align our two government plans," said Haddad.
The PT President also complained of the abnormality of this election and the persecution of President Lula, citing as an example the resolution of the Supreme Electoral Court which required all candidates to officially choose their Vice Presidential running mate by midnight Sunday night. "The parties always have a time period between the end of the national conventions and registering the ticket to make adjustments. In this election it was different, entirely to try to invalidate Lula's candidacy. But we will support him to the end," said Gleisi.
PT in Congress, with information from Agencia PT.